Giving
If you are sending a check, please note our address:
Parish Office
Grace/La Gracia Episcopal Church
33 Church Street, White Plains, NY 10601
Thank you for your support.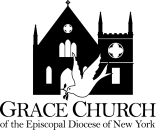 May the God of hope fill you with all joy and peace in believing
so that you may abound in hope by the power of the Holy Spirit.
[ Romans 15:13]
Dear Friends,
Every Sunday when I look out on the congregation at each service, I am struck by how many different paths we have followed to gather in this beautiful sanctuary. Some of you have walked a path mapped by your parents and grandparents, while others just showed up one day and stayed; some found this a haven in your wanderings, while others have never felt at home anywhere else. Some of you are drawn by the music, others by the preaching, some by the liturgy, others by the fellowship.
However, every one of our paths began in the same place:
All of us began our journeys with hope.
Everyone who comes through our doors brings hope. Our ministry with the homeless and the hungry begins in hope. Our worship, especially our bi-lingual liturgies, begins in hope. Our ministry with children and youth, our weekly classes our monthly Book Club – all these have begun in hope.
This hope is different from naïve optimism, and it's more than resolute determination. Hope is a spiritual gift that allows us to trust that the future holds what is good and beautiful; hope allows us to see possibilities beyond our best efforts, and hope frees us from worry. To accept this gift if a spiritual discipline. At different times in our lives, we decide whether or not to accept this gift, whether or not to open our hearts and our eyes, no matter what obstacles appear before us. To share this gift builds up the beloved community of communities that we are called to become.
The annual Stewardship Campaign is a time to accept, use, and share this gift of hope. Every year, we challenge one another to give not for the sake of what we will get, but for the possibilities we create for each other and for our community. Our pledges are promises to God and to each other that we will trust in the fullness of God's grace even when our path is not clear, that we will trust in the Spirit that guides the mission of the Church even when we do not agree on what that is, and that we will trust in the all-encompassing love of the One who continues to celebrate and suffer with us.
With this new year, a new path opens before us. Let us begin it together in hope.

Que Dios, que da esperanza los llene de alegría y paz a ustedes que tienen fe en El, y les de abundante esperanza por el poder del Espíritu Santo.
[Romanos 15:13]
Queridos amigos,
Todos los domingos, cuando observo a la congregación en cada servicio, me sorprende la cantidad de caminos diferentes que hemos seguido para reunirnos en este hermoso santuario. Algunos de ustedes han recorrido un camino trazado por sus padres y abuelos, mientras que otros simplemente aparecieron un día y se quedaron; algunos encontraron aquí un refugio en sus búsquedas, mientras que otros no se han sentido como en casa en ningún otro lugar. Algunos de ustedes son atraídos por la música, otros por la predicación, algunos por la liturgia, otros por la comunión.
Sin embargo, cada uno de nuestros caminos comenzó en el mismo lugar:
Todos comenzamos nuestros viajes con esperanza.
Todo el que entra por nuestras puertas trae esperanza. Nuestro ministerio con las personas sin hogar y los necesitados comienza en la esperanza. Nuestra adoración, especialmente nuestras liturgias bilingües, comienza con la esperanza. Nuestro ministerio con niños y jóvenes, nuestras clases semanales, nuestro Club de Libro mensual, todo esto ha comenzado con esperanza.
Esta esperanza es diferente del optimismo ingenuo, y es más que una determinación decidida. La esperanza es un don espiritual que nos permite confiar en que el futuro tiene todo lo que es bueno y hermoso; la esperanza nos permite ver posibilidades más allá de nuestros mejores esfuerzos, y la esperanza nos libera de la preocupación. Aceptar este don si es una disciplina espiritual.
En diferentes momentos de nuestra vida, decidimos si aceptar o no este regalo, abrir o no nuestros corazones y nuestros ojos, sin importar qué obstáculos aparezcan ante nosotros. Para compartir este regalo se construye la amada comunidad de comunidades en las que estamos llamados a ser.
La Campaña anual de Mayordomía es un momento para aceptar, usar y compartir este don de esperanza. Cada año, nos desafiamos mutuamente a dar no por el bien de lo que obtendremos, sino por las posibilidades que creamos por cada uno y para nuestra comunidad. Nuestras promesas son promesas a Dios y entre nosotros que confiaremos en la plenitud de la gracia de Dios incluso cuando nuestro camino no sea claro, que confiaremos en el Espíritu que guía la misión de la Iglesia incluso cuando no estemos de acuerdo en lo que, es decir, y que confiaremos en el amor que abarca todo a Aquel que continúa celebrando y sufriendo con nosotros.
Con este nuevo año, un nuevo camino se abre ante nosotros. Comencemos juntos en la esperanza.