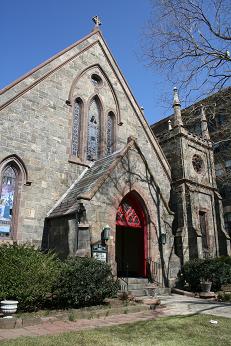 Grace/La Gracia
Almighty God, giver of every good gift, look graciously on your Church, and so guide the minds of those who shall choose a rector for this parish, that we may receive a faithful pastor who will care for your people and equip us for our ministries; through Jesus Christ our Lord. Amen.
Message from our Rector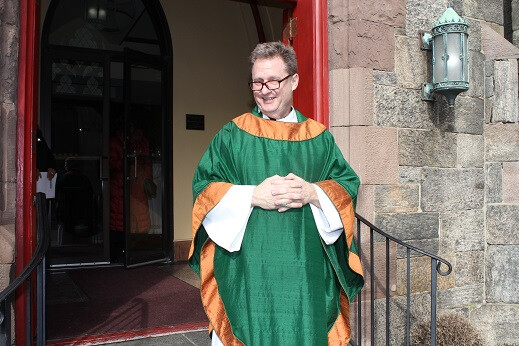 January 28, 2019
Gracia/La Gracia,
I cannot thank you enough for the warm welcome received as I enter my third week here at Grace la Gracia. So many of you have reached out to me, helping to introduce me to your amazing ministries and traditions. I have thoroughly enjoyed working with Joe Gallo (senior warden), Fr. Adolfo, Maria Campos, several vestry members and so many others within our parish. Your smiles are awesome. Your hugs are appreciated. And your love is essential.
I am slowly getting moved into the rectory which has recently been painted with input from my boss (my wife), the Rev. Lisa Graves. Lisa was here for my first worship service on January 20th. She loved the worship, the community and the delicious cake, thanks to Cecil. In fact, she has asked me, "What is it about White Plains? There are so many healthy people here. They're all living beyond 100."
From her title, you can gather that my wife, Lisa, is an Episcopal priest. She has been a parish priest and is now finalizing things in West Virginia, selling our home and packing to join me in late May, after our oldest daughter, Bella, graduates from West Virginia University.
Our family members include Lisa, our two college daughters (Bella, the oldest; Kat, the youngest) and my three canine sons (Kipper, Tyler, Uno). Kat is beginning her college career in Baton Rouge, LA at Louisiana State University. Both daughters are enjoying college life. Bella is a hospitality major, focusing on hotel and hostel management; and now working for Hilton Hotels when not in the classroom. Kat loves marketing - specifically creative writing - her sorority (Delta Zeta) and working in the French department.
Grace la Gracia is my fourth parish call after having graduated from Virginia Seminary in Alexandria, VA in 2007. However, my career began much earlier as a business manager after having graduated with an MBA from American Graduate School (Thunderbird) located in Phoenix, AZ. My early career was in financial planning for small businesses with American Express; and then eventually I helped expand my family's food distribution company located outside of Kansas City, Missouri.
My discernment process to priesthood began while traveling to India on behalf of Rotary International in 1998. It was in this Hindu country that I found separation from the daily grind and space to envision new possibilities, eventually leading to seminary in 2004. My ministry over the past 20 years has enveloped different types of work, academic and parish. A passion of mine has been to help build parish communities after having received a doctorate in congregational development at Virginia Seminary in 2013.
Though most of my work has been on the parish level, I have also enjoyed working with various dioceses, the national church and the greater Anglican Communion, culminating in an amazing Anglo-Catholic celebration in Rome two years ago with the Archbishop of Canterbury and the Pope.
I have a profound love of Travel, having visited many countries around the world. Some highlights include building a school and hospital in Ghana; swimming in the Amazon and Nile rivers, backpacking in Europe, climbing Mount Kilimanjaro, touring various parts of South America and Mexico, baptizing several people in the River Jordan, and touring the Holy Land.
In the end, I am so very grateful to be here and with you. I was drawn to your diversity, your history and your love of worship and outreach. I am currently trying to learn so many new things here: names, programs, traditions, Spanish, roads, grocery stores, et al. And I want to meet with you. I want to hear your story. I want to hear about your passions and why you love this wonderful parish.
Let us begin….
Fr. Chip