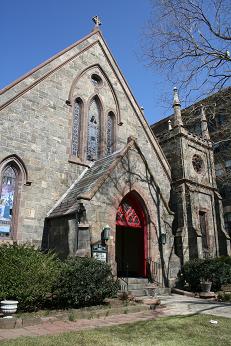 Grace/La Gracia
Almighty God, giver of every good gift, look graciously on your Church, and so guide the minds of those who shall choose a rector for this parish, that we may receive a faithful pastor who will care for your people and equip us for our ministries; through Jesus Christ our Lord. Amen.
Message from our Interim Rector
December 14, 2017
Dear Friends,
As I begin my second month as Interim Rector at Grace/ LaGracia, I want to thank you for your warm welcome and to introduce myself and my family to you. We are settled into the rectory, I am making fewer wrong turns on the winding one-way roads in and around White Plains and gradually learning about the many small restaurants and shops nearby, and I am beginning to know each of you. The days are flying by, and I am very grateful for the many small ways that the staff, Wardens, and Vestry have made this transition smooth.
We have moved here from Buffalo, my husband's hometown, where we had lived since 2005. I grew up in central Los Angeles, and over the years my husband and I have lived in Boston, Boulder Colorado (where we met), Binghamton New York, and Princeton New Jersey. In coming to White Plains it feels good to return to city life and to be near New York City again.
In the Diocese of Western New York I served in 3 congregations. For 10 years I served two rural congregations located about 25 miles from Buffalo: St. Andrew's – Burt and St. John's-Wilson. I loved doing ministry in the rural community and it was very satisfying to build up a partnership between two small, thriving congregations. In 2015 I became Interim Rector at Calvary Episcopal Church just outside Buffalo; I found that I also enjoy serving in a large congregation and that being a "temporary shepherd," as Interims are sometimes called, brings challenges and gifts that I value deeply at this point in my life. I also had the opportunity to serve on various diocesan and regional committees, including as Dean of Niagara, on the Commission on Ministry, the Bishop Search Committee, the Board of Examining Chaplains, and as an instructor and mentor for people preparing for lay licenses and for ordination.
I was ordained to the priesthood in January of 2004 in the Diocese of New Jersey and my first ministry was at Christ Church-New Brunswick, a congregation not unlike Grace/La Gracia. Before entering parish ministry, I taught literature at the university level, most recently at Rutgers University in New Jersey. My specialization was continental and British Medieval and Renaissance literature, and I also taught courses in writing, Theology and Literary Theory, and Religious Texts as Literature, which led me to study a wide range of faith traditions. My spiritual journey in returning to the church was through my love of literature and my study of theology, and I continue to turn to poetry when I need to crystallize the meaning of Scripture or a theological question.
My husband, Dale Haidvogel, is a Professor of Oceanography in the Institute for Marine and Coastal Sciences at Rutgers University, and he will be coming and going during the coming year. Our daughter Ilona and her husband Tony live in Worcester Massachusetts, and we are looking forward to spending more time with them, exploring NYC and the hiking trails of the Hudson Valley and Western Massachusetts.
I'm looking forward to joining you in your journey through transition for the coming year. I appreciate the diversity, reverent worship, and social advocacy that have always been core values at Grace/La Gracia. Even though I do not speak Spanish, I am deeply committed to engaging with you in the challenges and the grace of preparing for the next stage of what God is calling you to be.
Wishing you every blessing of joy and hope for this holy season,
Judith+
(In Spanish Below)
Welcome to the website of Grace Church!
Grace /La Gracia is a unique community. Most churches make that claim about themselves, but Grace has solid grounds for doing so. At a time when prejudice and division seem to be driving forces, Grace Church is a family of different races, cultures, languages and lifestyles. We have as one of our goals to model God's love. It is not always easy, but there is an energy generated by our fellowship together that feeds us all.
This is also a church that seeks to be a generous and effective participant in its community. Through Lifting Up Westchester we help to run shelters for men and women, a soup kitchen, a mentoring program, and several other outreaches. Through Downtown Music we help to offer a lively and high quality music program here in White Plains. Our members are involved in a wide variety of causes and organizations, from Bread for the World to Urban League to Boy Scouts.
Our involvement goes beyond our immediate community. Caribbean Ministries helps support schools and ministries in several of the islands. We have a connection with El Hogar Projects in Honduras, and have sent two groups there for volunteer and learning projects.
We have a special concern for our children and young people. We provide nursery care during our main service, and there is Christian education for all ages. The third Sunday of every month is especially devoted to our children, who do the readings and prayers. On those Sundays, in place of a sermon, there is a special presentation designed with the children in mind.
We are, above all, a worshipping community. Our worship is in the Episcopal tradition, with all its sacramental mystery and beauty. The Episcopal Church is a faith tradition that is very open to questioning and is tolerant of different opinions and lifestyles.
If you think you might enjoy worshipping and working with a diverse, opinionated, lively, inclusive, dedicated, funny, compassionate and positive group of people, please come and join us!
¡Bienvenido/a a la página digital de la Iglesia La Gracia!

Grace / La Gracia es una comunidad única. La mayoría de las iglesias hacer esa afirmación acerca de sí mismas, pero La Gracia tiene bases sólidas para hacerlo. En momentos en que los prejuicios y la división parecen ser las fuerzas de conducción, la iglesia de La Gracia es una familia de diferentes razas, culturas, idiomas y estilos de vidas. Tenemos como uno de nuestros objetivos el imitar el amor de Dios. No siempre es fácil, pero hay una energía en todos/as nosotras/os generada por nuestra comunión que nos alimenta a todas/os.

Esta es también una iglesia que busca ser una participante generosa y eficaz en su comunidad. A través del Lifting Up Westchester ayudamos a establecer albergues para hombres y mujeres, un comedor comunitario, un programa de mentoría, y varios otros programas. A través del Downtown Music ayudamos a ofrecer un evento de música de calidad viva y de altura aquí en White Plains. Nuestra membrecía está involucrada en una amplia variedad de causas y organizaciones, desde Pan para el Mundo para la Liga Urbana hasta Niños Escuchas (Boy Scouts).

Nuestra participación va más allá de nuestra comunidad inmediata. Ministerios del Caribe ayuda a darle apoyo a escuelas y ministerios en varias de las islas. Tenemos una conexión con el Hogar Proyectos en Honduras, y hemos enviado a este lugar dos grupos para proyectos de voluntariado y aprendizaje.

Tenemos una preocupación especial para nuestros/as niñas/os y jóvenes. Durante nuestro servicio principal proporcionamos cuidado infantil y hay educación cristiana para todas las edades. El tercer domingo de cada mes es dedicado especialmente a nuestros/as hijos/as, quienes hacen las lecturas y oraciones. En esos domingos, en lugar de un sermón, hay una presentación especial diseñada con las/os niñas/os en mente.

Somos, ante todo, una comunidad de adoración. Nuestra adoración es en la tradición Episcopal, con toda su belleza y misterio sacramental. La Iglesia Episcopal es una tradición de fe que es muy abierta al cuestionamiento y es tolerante con las diferentes opiniones y estilos de vida.

¡Si usted piensa que podría disfrutar de adorar y trabajar con un grupo diverso de personas que son, asertivas, alegres, incluyentes, dedicadas, divertidas, compasivas y positivas, por favor, ven y únete a nosotros/as!
Accessibility
Grace Church provides wheelchair and handicap accessibility through the Church Street entrance. This entrance provides easy access to the Sanctuary, the Parish hall, meeting rooms, rest rooms and water fountain which are all handicap compliant. In addition, an elevator provides access to the church office on the second floor.
Accesibilidad


La iglesia La Gracia tiene disponible sillas de ruedas y accesibilidad para personas discapacitadas a través de la entrada que está por la calle Church. Esta entrada proporciona un fácil acceso al Santuario, al salón parroquial, salas de reuniones, salas de descanso y fuente de agua que están accesible a personas en sillas de ruedas. Además, un ascensor que proporciona acceso a la oficina de la iglesia en el segundo piso.