Giving
Please note that this button can be used for weekly pledging.
The "donate" link is to PayPal (which will accept payments from a PayPal account as well as from credit cards and bank accounts).
There's a place that states "Add Special Instructions to the Seller" -
that space is perfect for entering the Pledger's Box Number.
Please reach out to Michael Heffner if you have any questions.
If you are sending a check, please note our address:
Parish Office
Grace/La Gracia Episcopal Church
33 Church Street, White Plains, NY 10601
How to Pledge to Grace/La Gracia in 2020
The church will remain flexible in ways to receive your generosity during this difficult period. Blessings.
Option 1: The standard way of staying current with your pledge still works.
Feel free to put your pledge envelope in the mail (check only) and send it to the Grace Church office (to the attention of the Office Administrator). Bundling for a few weeks is fine.
Grace Episcopal Church/La Gracia
33 Church Street
White Plains, New York
10601
Option 2: Please note that we will be constructing a secure drop box on the red front door of the church. The box will be checked regularly for pledge envelopes (which will be recorded) and gifts of cash.
Option 3: The electronic way to pledge or donate to the church is honestly not very complicated and completely secure.
www.gracewhiteplains.org is the link to the Grace/La Gracia website. You'll see a tab across the top for pledging. Click to bring you to the Pledging/Giving page. The "donate" button will take you to the location for electronic giving. The church uses PayPal, the 2019 Fortune 500 payment company (#204 in last year's survey). This service can be used for one time or scheduled payments. One is able to use credit cards or send funds from a PayPal account (www.paypal.com ). Michael Heffner is available to help explain or set up your account – . Please note that a fee is charged to the church for these transactions (which is why a check in the drop box or sent by mail is always preferred).
Thank you for your support.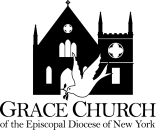 May the God of hope fill you with all joy and peace in believing
so that you may abound in hope by the power of the Holy Spirit.
[ Romans 15:13]
November 2019
Dear Parishioners,
We began our 2019-20 stewardship campaign under new leadership. Father Chip Graves became our Rector in January 2019. The installation ceremony was held on Saturday, July 20, 2019. The time period from January to November represents "New Beginning" for Grace/La Gracia Church. As such, our stewardship theme this year will be "New Beginnings". Let us consider 2 Corinthians 5:17".
"Therefore, if anyone is in Christ, he is a new creation.
The old has passed away; behold, the new has come."
We can see that our theme of New Beginnings is based in scripture, are the words and life of Jesus Christ, and is at the very center of our Church's teachings, namely that:
We are all truly blessed
Giving expresses our gratitude to God
Giving is an act of worship
We as individual members of Grace/La Gracia are called upon to donate a portion of our time, talent and treasure. This giving back helps us acknowledge God's ownership of all things; it expresses our gratitude and thanksgiving to God.
Our stewardship campaign will focus on inspiring a deeper understanding of true giving and how it helps the individual who gives. Stewardship is a lifelong commitment. Let us remember that giving gives God the opportunity to supply us with more to give; giving imitates God; giving provides the funding for our church's mission and ministry.
In this time of "New Beginnings" the stewardship committee asks that you give prayerful and deliberate consideration to what you can give and what you will give. Giving is sharing. It is an acknowledgement that God owns everything. We are simply stewards.
Please respond generously on Pledge Sunday, November 17th.
Charlotte Roberson, Stewardship Chair Cynthia S. Brown, Stewardship Co-Chair
Noviembre de 2019
Queridos feligreses
Comenzamos nuestra campaña de mayordomía 2019-20 bajo un nuevo liderazgo. El Padre Chip Graves se convirtió en nuestro Rector en enero de 2019. La ceremonia de instalación se llevó a cabo el sábado 20 de julio de 2019. El período de tiempo de enero a noviembre representa el "Nuevo Comienzo" para la Iglesia Grace / La Gracia. Como tal, nuestro tema de mayordomía este año será "Nuevos comienzos". Consideremos 2 Corintios 5:17".
"Por lo tanto, si alguien está en Cristo, él es una nueva creación.
Lo viejo ha pasado; he aquí, lo nuevo ha llegado ".
Podemos ver que nuestro tema de Nuevos comienzos se basa en las Escrituras, son las palabras y la vida de Jesucristo, y está en el centro de las enseñanzas de nuestra Iglesia, a saber:
1) Todos somos verdaderamente bendecidos
2) Dar expresa nuestra gratitud a Dios
3) Dar es un acto de adoración
Nosotros, como miembros de Grace / La Gracia, estamos llamados a donar una parte de nuestro tiempo, talento y tesoro. Esta devolución nos ayuda a reconocer la propiedad de Dios de todas las cosas; expresa nuestra gratitud y acción de gracias a Dios.
Nuestra campaña de mayordomía se centrará en inspirar una comprensión más profunda de la verdadera donación y cómo ayuda a la persona que dona. La mayordomía es un compromiso de por vida. Recordemos que dar le da a Dios la oportunidad de proporcionarnos más para dar; dar imita a Dios; dar proporciona los fondos para la misión y el ministerio de nuestra iglesia.
En este tiempo de "Nuevos comienzos", el comité de mayordomía te pide que consideres con oración y deliberación lo que puedes dar y lo que darás. Dar es compartir. Es un reconocimiento de que Dios posee todo. Somos simplemente mayordomos.
Responda generosamente el domingo 17 de noviembre.
Charlotte Roberson, Presidenta de Mayordomía
Cynthia S. Brown, Copresidenta de Mayordomía